If you live in Monroe County, Michigan and are considering installing a mini-split AC system to keep your home cool during the hot summer months, then you have come to the right place. Here at J&K Heating and Cooling we have loads of experience with this type of air conditioning system and there are many questions and concerns that we are often asked about this type of system. We'll address many of those questions and concerns here.
This guide will provide you with all the information that you need to make an informed decision about whether or not a mini-split AC system is right for your home. Of course, if your question isn't answered her or you have other concerns or questions, we're always here to help! Give us call and we can help and also provide you with pricing quotes for a new mini-split AC for your home in Monroe County Michigan.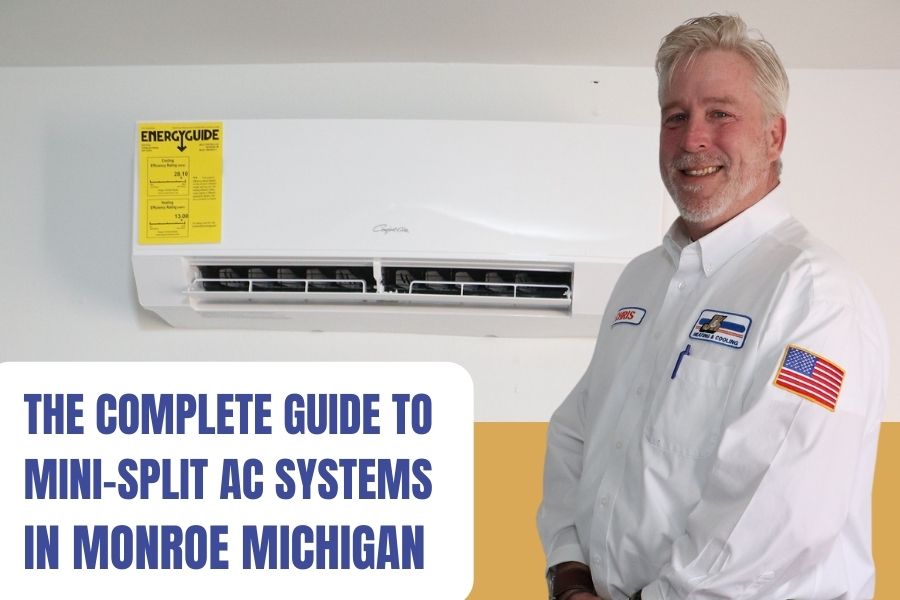 What is a Mini-Split AC System?
A mini-split AC system is an air conditioning system that consists of two parts – an indoor unit and an outdoor condenser. The indoor unit is usually installed in a room, such as a bedroom or living room, while the outdoor condenser is located outside of your home. This type of system allows you to keep each room in your house at a different temperature, giving you greater control over your home's climate.
Advantages of Mini-Split AC Systems
There are several advantages to choosing a mini-split AC system for your home in Monroe County Michigan. One of the biggest advantages is that this type of system offers more flexibility than traditional air conditioning systems. With a mini-split AC system, you don't need to use existing duct work or install new ductwork. Plus, they are more quiet than a traditional window air conditioner. There are several more advantages of using a mini-split AC as well. We'll take a closer look at some of the questions below as well:

Next Steps
If you're interested in a mini-split air conditioner for your home in Monroe County Michigan be sure to give us a call here at J&K Heating and Cooling. We can provide more details on systems which are available as well as pricing details for purchase and installation. Plus, you can rest assured your system will be installed correctly and sized correctly for your home. Give us a call today to get started!