When you own a home, it's important to maintain your property and appliances, including your heating and cooling system. Whether you have a gas or electric furnace, or a combo heating and cooling system, following up with maintenance is important to keeping your home comfortable and energy costs down. There are a lot of reports online and on TV talking about the dangers of hiring unlicensed amateur contractors, and heating/cooling is no different. Other than minor maintenance such as changing your air filters, it's recommended that you hire licensed and insured heating and cooling contractors to ensure systems are maintained and installed properly.
An annual inspection of your home's HVAC system, water heater, filters, and thermostat are key to maintaining good upkeep of your heating and cooling devices. J&K Heating & Cooling is the #1 heating and cooling contractor in Monroe MI, as well as surrounding areas. Their expert HVAC technicians are always available and up to date on the latest ordinances and systems that you need to know about.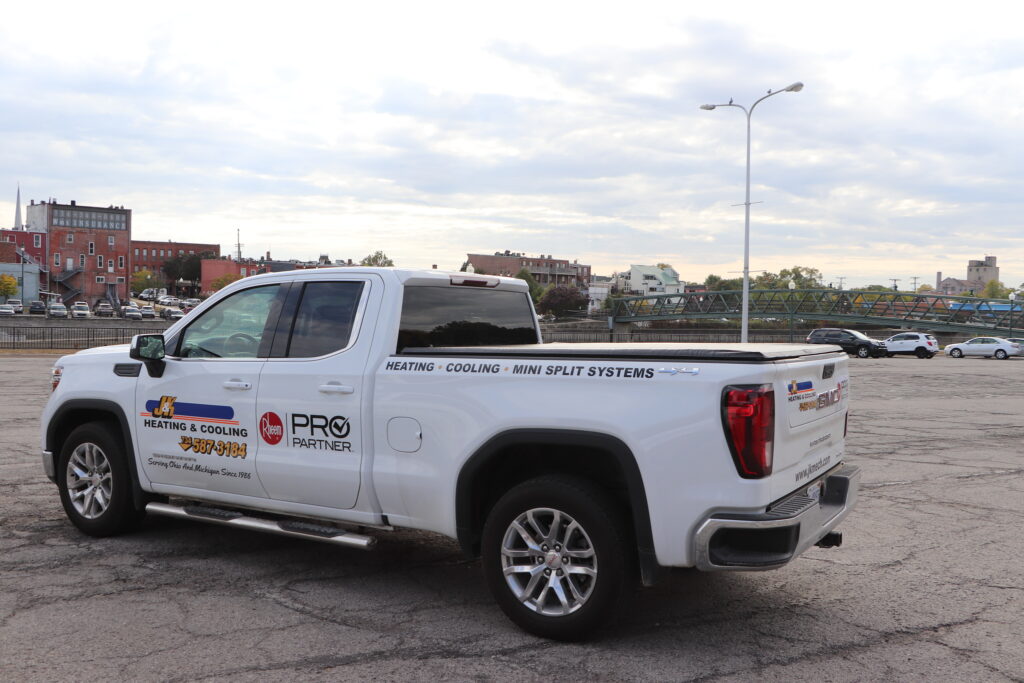 Affordable and honest
J&K Heating & Cooling offers a full-range of HVAC repair, maintenance, inspection, and installation services, for both home and business owners. They offer:
More than 30 years of professional service experience
Family-owned business
Affordability, with competitive prices on all heating and cooling repairs and replacement services
Consistent, courteous, and prompt service
Easy credit approvals and financial assistance for qualified home and business owners
Top brands such as Honeywell, Mitsubishi, Rheem, Trane, and GoodMan
Don't let finances and budget prevent you from calling J&K Heating & Cooling—they
will find your best options so you can get the service you need, right away.
Wide range of payment types accepted
J&K accepts many forms of payment, including credit, cash, debit cards, and financing options. Their administrative financing staff will sit down with you to determine your budget and credit needs and work with lenders and you to find the best, most affordable HVAC repair or replacement plan. This credible, Better Business Bureau highly rated company puts family first—your home's safety and comfort are their top priority. They can check your indoor air quality to make sure you and your family is breathing fresh, healthy air, and examine your thermostat to ensure it's running properly. If not, they'll recommend the best solution to any of these problems that are affordable and practical. If you need a smart thermostat, they can install those too. That way you can regulate the temperature in your home or office, so it's used in the most efficient way. Plus, their services will help bring your utility bill down, so you can save money while keeping warm air in and cold air out. You'll always be comfortable and happy with the temperature, and if something goes wrong, they'll respond immediately to make things right.
Does J&K Heating & Cooling have a good response time?
Yes! From heating and cooling emergencies to general maintenance, their HVAC experts will address your concerns and schedule an appointment within 24 to 48 hours, depending on your situation and needs. They are known for being very responsive and attentive to homeowners. Unlike other big box heating/cooling companies, you won't have to wait days or weeks to get the prompt service you deserve.
Do they service commercial HVAC systems?
Absolutely! They inspect, service, repair, and install both residential and commercial HVAC systems. They specialize in commercial A/C, heating, indoor air quality, mini-splits, and water heaters. No system is too big or small for J&K. Time is money—they realize that if your heat or A/C goes out it could affect your profits and business, so they will expedite your request and respond quickly to any issues you are having. Don't attempt to fix something yourself, as it could be dangerous and hazardous, involving faulty wiring or some other precarious situation. Leave it to the expert at J&K to restore your heat or A/C so your business can get up and running again quickly.
Before I hire an HVAC contractor, I like to read positive reviews. How are J&K's reviews, and can I read some?
Of course! They have tons of positive, 5-star reviews on their website. J&K is very proud of the positive testimonials they've amassed, as those aren't something you can manufacture out of thin air. Instead, they are well-earned, based on high-quality customer service, performance, workmanship, and materials. Some comments include "extremely professional, helpful, and friendly…" "friendly, professional, and quick," "BEST IN THE AREA!" and "Great prices." These are just a handful of stellar reviews you can find on their company website, so rest assured, when you hire J&K you're doing business with an extremely reputable, popular organization.
Don't ignore signs of HVAC issues
If you see water pooling around your hot water heater, hear strange noises coming from your central A/C system, smell odd odors near your furnace, or are suddenly receiving sky-high utility bills out of nowhere, call J&K at 734-587-3184 and they will immediately address your problems and schedule a fast inspection. If you have an after-hours or weekend emergency—no problem—they have staff and equipment ready and available for these types of emergencies. Going without heat or A/C are not an option in their book. If you try to fix something yourself and aren't properly trained and licensed, you could do more damage than good, so it's best to call the best heating and cooling contractor in Monroe Michigan—J&K Heating & Cooling. Their friendly HVAC experts are always helpful and knowledgeable and have built valuable relationships with municipal inspectors to help get your project done quickly and approved. Plus, if you're getting a heater or hot water tank replaced, they will remove your old or faulty ones, so you won't have to worry about it. They take care of everything from inspection and repairs to replacement, inspections, and cleanup. They are the best one-stop-shop for all things related to heating and cooling repairs and installations,