Don't let the chilling Monroe winter sneak up on you! As the seasons change and the temperature drops, the importance of a well-functioning furnace becomes increasingly undeniable. A reliable HVAC system is not just about maintaining comfort—it's about ensuring your home's and loved ones' safety. With J&K Heating and Cooling, you won't be left in the cold. We're here to ensure your HVAC system is ready to meet the demands of our Michigan winter. There's no better time than now to ensure your home is winter-ready!
Regarding exceptional HVAC services in Monroe, J&K Heating and Cooling stands head and shoulders above the competition. Our reputation as a trusted HVAC contractor is built on years of dedicated service, advanced technical knowledge, and a deep commitment to customer satisfaction. Our prompt, efficient, cost-effective solutions make us the ideal partner to keep your home comfortable, regardless of outside weather. Whether you need regular maintenance, emergency repairs, or a complete system overhaul, trust J&K Heating and Cooling to deliver the best HVAC services in town.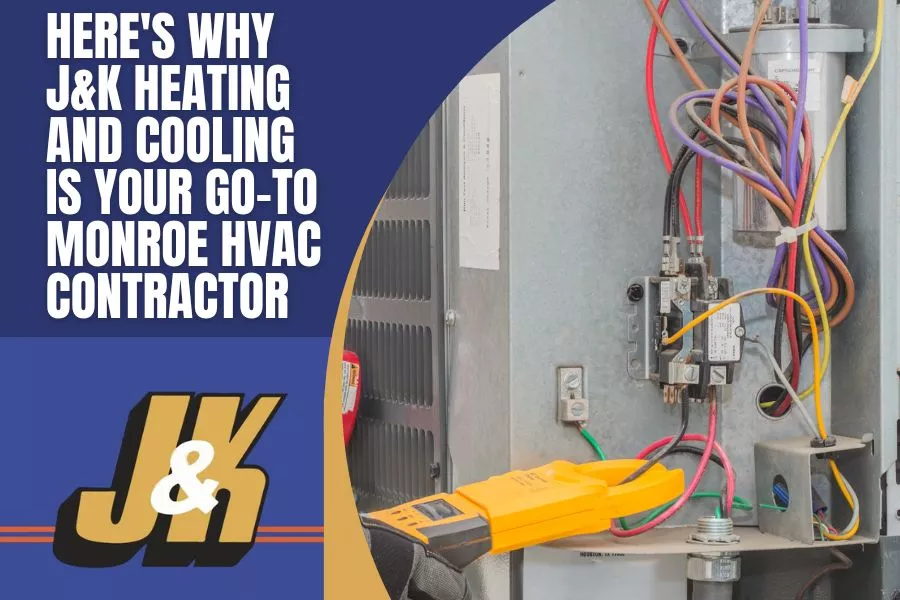 Comprehensive HVAC Services for Heating and Cooling Systems
At J&K Heating and Cooling, our services are designed to meet all your HVAC needs. Our skilled technicians are proficient in all HVAC installation, maintenance, and repair aspects. We specialize in troubleshooting and fixing issues related to heating and cooling systems, ensuring you receive optimal performance all year round.
Our services also extend to air quality management, providing solutions for healthier air in your home or business. Whether you're looking to install a new energy-efficient AC system, need a furnace tune-up before winter hits, or want a comprehensive check of your HVAC system's health, J&K Heating and Cooling has you covered.
Tailored Solutions for Monroe Homeowners
Understanding the unique needs of Monroe homeowners, J&K Heating and Cooling provides personalized HVAC solutions to ensure each home is at the ideal temperature and comfort level for your family. From maintaining older systems to installing highly efficient modern ones, our experts have the knowledge and skills to handle any task with our comprehensive services.
If you want to upgrade your current system, we can help you select the perfect energy-efficient model that aligns with your home's needs and budget. Should your furnace or AC unit require repairs, our team is equipped to diagnose and fix the problem promptly, minimizing any disruption to your comfort.
For homes dealing with air quality issues, our experts can recommend and install top-of-the-line air purifiers and dehumidifiers to create a healthier living environment. Trust J&K Heating and Cooling to provide comprehensive HVAC solutions tailored to the varied needs of Monroe homeowners. We are more than an HVAC service provider; we are your partners in creating a comfortable and healthy home.
Certified Technicians with Experience in Comfort Systems in Michigan
Our team at J&K Heating and Cooling is composed of highly qualified professionals who are experienced, rigorously trained, and certified. Our technicians hold certifications from industry-respected organizations, affirming their expert knowledge and skills in the HVAC field.
Our HVAC professionals at J&K Heating and Cooling leverage their extensive training and certification to guarantee high-quality service to our clients. Their industry-recognized qualifications testify to their understanding of the latest HVAC technologies and best service practices. We have the equipment to diagnose various air conditioning systems and furnaces in Michigan. With a rich experience spanning diverse heating and cooling systems, our technicians can swiftly identify and address any HVAC issues you may encounter, optimizing your system's performance and lifespan.

Quick and Efficient HVAC Repair & Service
At J&K Heating and Cooling, we pride ourselves on our swift response and service times. We understand that when it comes to HVAC issues, every minute matters. That's why we offer an immediate answer, typically arriving at your premises within hours of your call. Our certified technicians are trained in efficient diagnostic methods, which allow us to rapidly identify the source of the problem and implement effective solutions.
Emergency Services
Whether a minor repair or a major system overhaul, we aim to complete our work swiftly without compromising quality. We can do so when an emergency happens. We offer a 24-hour emergency service as well. We also provide comprehensive follow-up services to ensure the continued optimal performance of your HVAC system. With J&K Heating and Cooling, you can trust that your comfort is our top priority, and we work diligently to restore it as quickly as possible.
Minimizing Disruption to Your Daily Routine
At J&K Heating and Cooling, we deeply understand how crucial it is to avoid unnecessary disruptions to your daily routine. That's why we schedule our services at your most convenient time, aiming to perform our tasks swiftly while maintaining the highest quality of work. Our technicians are trained to work efficiently, ensuring they respect your time and home. During an installation or repair, we take all necessary precautions to protect your property, leaving the work area as clean as we arrive. Post-service, we walk you through the job, answer your questions, and provide tips for optimal system use and maintenance. With J&K Heating and Cooling, your comfort and convenience are always at the forefront of our services.
Affordable Pricing with Complete HVAC Repair and Service
At J&K Heating and Cooling, we understand the importance of affordable pricing when it comes to HVAC services. We strive to provide exceptional value for your money, ensuring our services are competitively priced without compromising quality. Our transparent pricing structure, with no hidden fees, allows you to know exactly what you're paying for. Additionally, we offer free, no-obligation quotes so you can understand the cost upfront. Whether a simple repair or a complete system installation, you can expect excellent, reliable service at a price that fits your budget. We also provide flexible financing options and regular promotional offers to make our services more affordable. With J&K Heating and Cooling in southeast Michigan, you can enjoy superior HVAC services without breaking the bank.
Positive Customer Testimonials
We believe in the quality of our services and providing excellent customer service, but don't just take our word for it. We invite you to watch the following video, which features testimonials from our happy and satisfied customers. Their feedback is a testament to the exceptional service and personal touch we bring to every HVAC job we undertake.
Get a Quote on Maintenance & Installation
Take your HVAC system checked out before an emergency. Be proactive and call J&K Heating and Cooling today at 734-587-3184 for a free quote or to schedule repair or maintenance of your HVAC system. Enjoy peace of mind knowing that your home comfort is in the skilled hands of our experienced team. We're committed to serving Monroe, Michigan, with timely, reliable, and affordable HVAC services. Reach out now to schedule service, and let us help you maintain a comfortable and healthy home environment.