Even though spring is barely here, and we're still getting spurts of snow, rain, and cold weather, it's not too early to start thinking about the condition of your air conditioner. It's kind of like running a 5K race—you wouldn't just run it without investing a few months of preparation and training. The same applies to your home appliances, especially those that usually only run a few months out of the year. They need to be well-maintained and inspected, to be sure they're operating properly and efficiently.
If you live in the Monroe, MI area, your best bet is to call J& K Heating & Cooling to set up a no-obligation inspection. J&K is a family-owned and operated HVAC contractor with many years of experience installing, replacing, and inspecting AC units. We're fully licensed and insured, so you'll always have peace of mind. We only offer you the best AC brands in the industry such as Trane, Goodman, Carrier, Rheem, and Amana, so you can rest assured your new AC unit will be high quality and ultra-efficient.
Are there any warning signs that my current AC unit is malfunctioning?
Yes, there are several red flags, including:
Unusual noises including banging, squeaking, or knocking
Extremely high AC/energy bill, more than usual
Water or condensation gathering around your unit
Atypical cycling patterns, either running continuously with no break, or barely running at all
Unusual smells coming from your HVAC system
If you notice any of the above red flags, don't delay in calling a licensed and insured HVAC company in Monroe County Michigan like J&K Heating & Cooling. We'll get you set up with a full interior and exterior HVAC inspection and let you know if there are any areas of concern. If you need to repair or replace your AC unit, we'll find you the best deal around. We are recognized as the most reputable, credible heating and cooling provider in Monroe Michigan.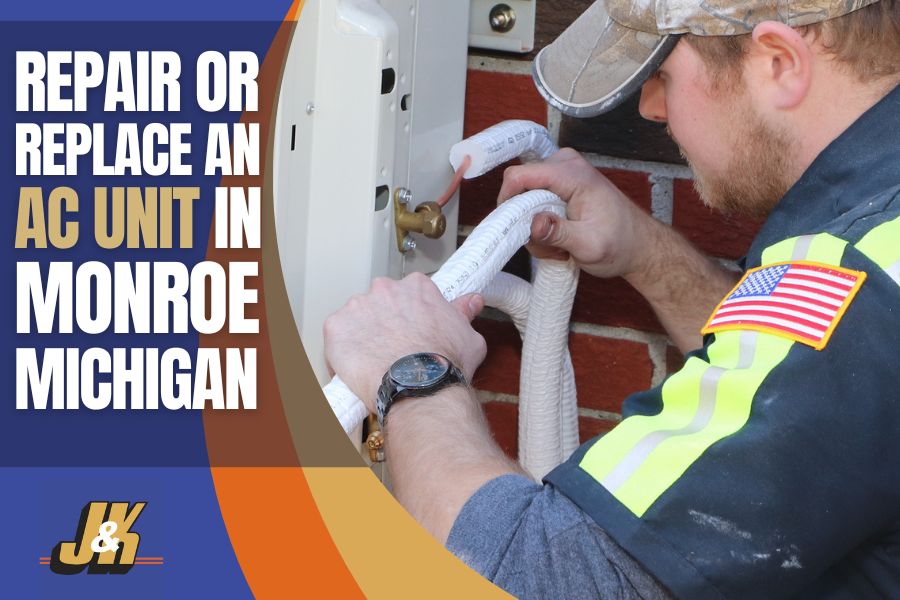 J&K has been expertly inspecting, installing, and replacing HVAC units for more than 15 years. We know the signs to look for and will only mention replacement if your unit is failing operationally. Our goal is to make sure your home is totally cool and comfortable during the hot summer months, all the while keeping your energy bill reasonable and affordable. Using tools such as a smart thermostat, you can control and monitor your AC usage and therefore reduce your energy use when you're not home and/or you don't need it.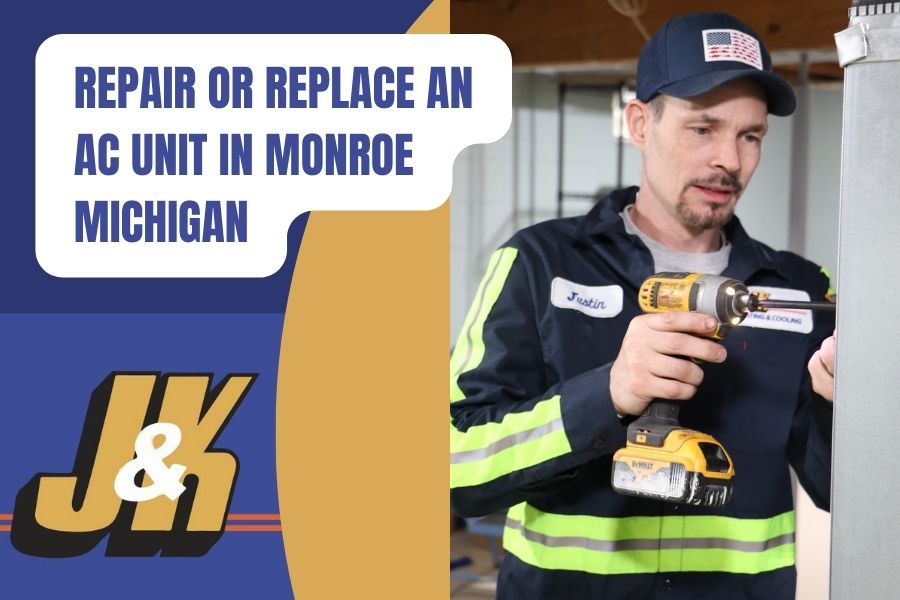 A new AC unit in Monroe Michigan doesn't have to be out of reach
Homeowners shouldn't have to decide between paying their mortgage payment and bills and replacing your current heater or AC system. If your AC goes out, you and your family will be miserable, with zapped energy due to high humidity and heat throughout your home. J&K Heating & Cooling offers affordable replacement options, including easy financing applications, fast credit approvals, special discounts and promotions, six months same as cash, zero down payment, and affordable monthly installation payments depending on your credit score. Our friendly and helpful administrative staff will assist you with financing deals that will help you fit a new AC unit into your budget easily.
A new AC system is a practical investment in your future
Studies show that investments in improvements such as a new roof, new HVAC system, and a new bathroom or kitchen offer much added value to your home if you decide to sell it in the future. Prospective homebuyers don't want to have to worry about repairing or replacing a furnace or AC unit when they buy a new house. They want to be able to move in, maintenance free, their only objectives being home decorating and unpacking boxes. People want to be able to enjoy their new home immediately, without the worries of home repairs or maintenance.
Call us for a free inspection and HVAC evaluation
If you're unsure if your current AC unit is running at optimum capacity or needs replacement, it's wise to call J&K to set up a free home inspection. We'll check everything over thoroughly including your water heater, HVAC unit, thermostat, and air filters. If it's decided that you do need a new system, we'll help you find the perfect one for your home that won't break the bank. Our AC experts will schedule an installation time and day that's convenient for you and your family, with minimal disruption. We'll remove your old unit, pull all necessary city permits, schedule city inspections, professional install and test your new unit, and haul away any old parts or debris. You'll be left with an outstanding, state-of-the-art AC unit that will keep you cool and comfortable even in the hottest weather.
We'll be there for you in the event of an emergency
If your AC suddenly goes out unexpectedly, you won't have to wait for days or weeks to get J&K to respond to your emergency. We offer after-hours emergency repairs on weekends and even holidays. Just give us a call at
734-587-3184 and we'll respond immediately. You won't have to suffer unnecessarily during a heat wave because we'll always have you covered. To learn more about our services and special offers, visit our website and schedule a convenient FaceTime call. We look forward to being your go-to HVAC contractor.