Fall has barely begun, and yet some of us have already fired up our furnaces. We've had some cold mornings and days in August and September, and it's only going to get colder. It's time to start thinking about your heating system, and how effective it is, before it's too late. If you're looking for a reliable heating company in Monroe County Michigan, the best place to call is J&K Heating and Cooling. We're a family owned and operated HVAC contractor serving home and business owners in Monroe County and surrounding cities. We've been in business for over 30 years, so we're experts at what we do. Our HVAC team is trained on all the latest models of heaters and air conditioners and are always professional and friendly.
Call the experts for a job well done
If you need furnace repair in Monroe County MI, we will take care of all your needs, quickly and affordably. We offer free estimates and consultations, and pledge to keep your home's temperature comfortable at all times. Whether you have an electric or gas furnace, it makes no difference—we have experience servicing, repairing, and replacing any type of heating system. We service all makes and models including top brand names such as Trane, Honeywell, Amana, Rheem, Goodman, and Mitsubishi. We are also known for servicing:
Heat pumps
HVAC systems
Generators
Furnace repairs
Furnace replacement and installation
Indoor air quality inspections and corrections
Smart thermostats
Hot water heaters
AC systems
Water heaters and boilers
We've built great relationships with top HVAC manufacturers across the country and can easily obtain parts for any type of system. Depending on your specific needs, we will provide you with the right furnace or heater for your situation.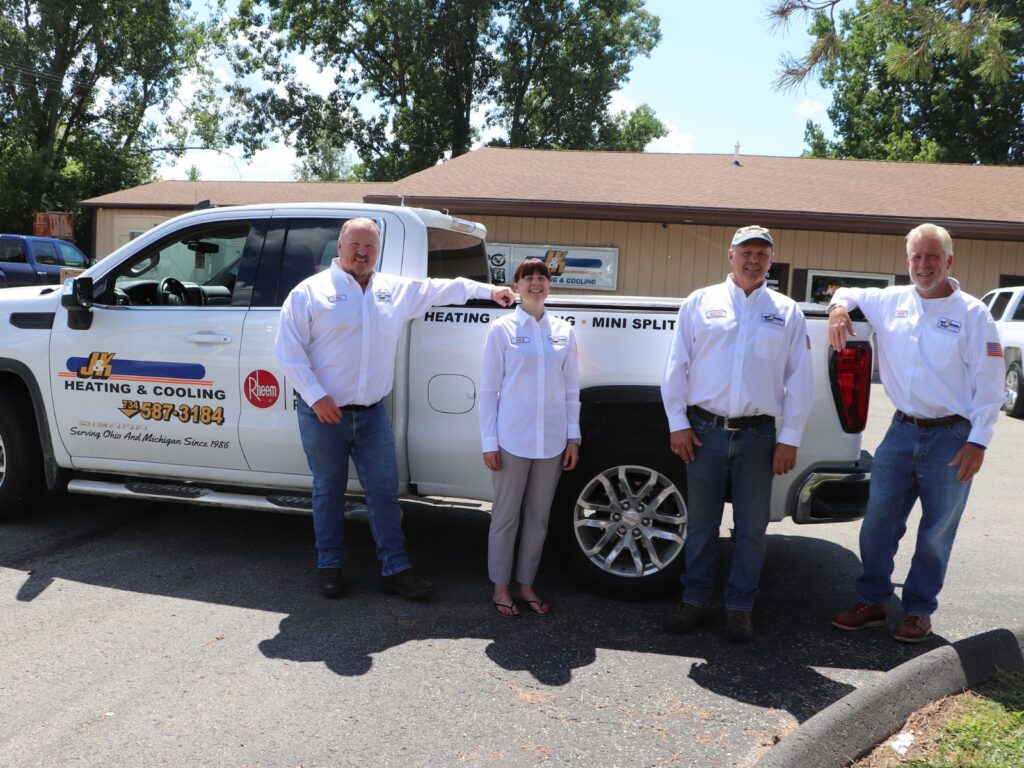 We're affordable and credible
Located in Maybee, MI, we currently have a 5-star rating with the Better Business Bureau. The BBB rates business like ours in areas such as performance, quality, and customer service. In fact, we're known as the top heating company in all of Monroe County MI. We're proud to be a top-rated HVAC company in Michigan, since we always strive to do our best. You can check out the positive customer reviews on our website. There, you will find comments such as "Amazing! The job went faster than expected…they went above and beyond." Most of our testimonial ratings are nearly five stars. We add a personal touch to every customer experience, guaranteeing the best service and performance among our competitors. We take all types of payment, including:
Debit cards
Cash
Most credit cards
We also offer easy credit approvals and affordable financing plans. An investment in a highly effective HVAC system pays off quickly, so we'll make sure you can get the particular furnace or heater you want for your home or business.
Good indoor air quality is critical
J&K Heating and Cooling uses state-of-the-art equipment to monitor and test your home or office's indoor air quality. While we're inspecting your heating system in Monroe County MI, we'll also carefully check your indoor air quality. Poor air circulation or quality can cause health issues such as heart disease, cancer, and serious respiratory problems. According to the World Health Organization (WHO), an estimated 3.8 million people die every year as a result of poor air circulation or quality. Contaminants found in some homes include lead, mold, carbon monoxide, asbestos, allergens, smoke, radon, and formaldehyde. Our HVAC experts will thoroughly inspect and test your property for noxious materials like these to make sure the air you and your family breathes is safe and clean. We'll help you by changing your air filters, boosting air circulation, repairing or maintaining your current HVAC system, and/or installing a new heater or furnace. We can also direct you to effective indoor air quality products that can help you monitor the air quality yourself.

If your furnace suddenly goes out, give us a call
If your furnace starts making strange noises, stops working, or is leaking water, call us anytime day or night. We specialize in HVAC repair 24/7 emergency service, including after hours and on weekends. No homeowner wants to go without heat, especially when temperatures are subzero. We're always reliable and dependable, ready to assist you and make sure your system is up and running properly at all times. Other big box HVAC companies don't have the time or interest to help a long list of customers without heat. When you call J&K Heating and Cooling during a heating emergency, we'll be there, guaranteed. Just give us a call at 734-587-3184 to speak to a friendly and knowledgeable HVAC technician. We'll get you scheduled immediately if needed, to ensure your home or business will be comfortable and warm during our coldest months.
Don't wait, call today
Being prepared for furnace emergencies is important to you and your family. That's why it's best to have your system checked out before it's too late so you can be worry-free when the brutal weather hits. The majority of our customers come to us from past customers and referrals. We're proud to be the #1 heating company in Monroe Michigan and surrounding areas. We're known for our fast, friendly service, and all our labor and materials are guaranteed to be the best. Our first inspections and consultations are free—we'll carefully and meticulously inspect not only your furnace but also the interior and exterior of your home. We offer a 21-point inspection that includes assessing your water heater and HVAC system. We'll also look for leaks and drafty spots that may be impacting your home's warmth. Once we repair your furnace or install a new one that includes a warrantee, you'll immediately notice your energy bill will go down. If your current system is leaking or not working at full capacity, it's probably causing your bill to rise. Call J&K Heating and Cooling today so you can stay warm for the winter and keep your heating bills reasonable. Follow us on social media to learn more about us.