At J&K Heating and Cooling, we prioritize your comfort. Located in the heart of Monroe County, we are a reputable HVAC company with an unwavering commitment to quality services. Our highly skilled professionals are dedicated to delivering efficient, reliable, and affordable heating and cooling solutions around the clock. Whether you're looking to install a new system, require emergency repairs, or need a routine maintenance check, you can trust J&K Heating and Cooling to meet your HVAC requirements with precision and promptness.
Why We're the Top Choice for an HVAC Company in Monroe County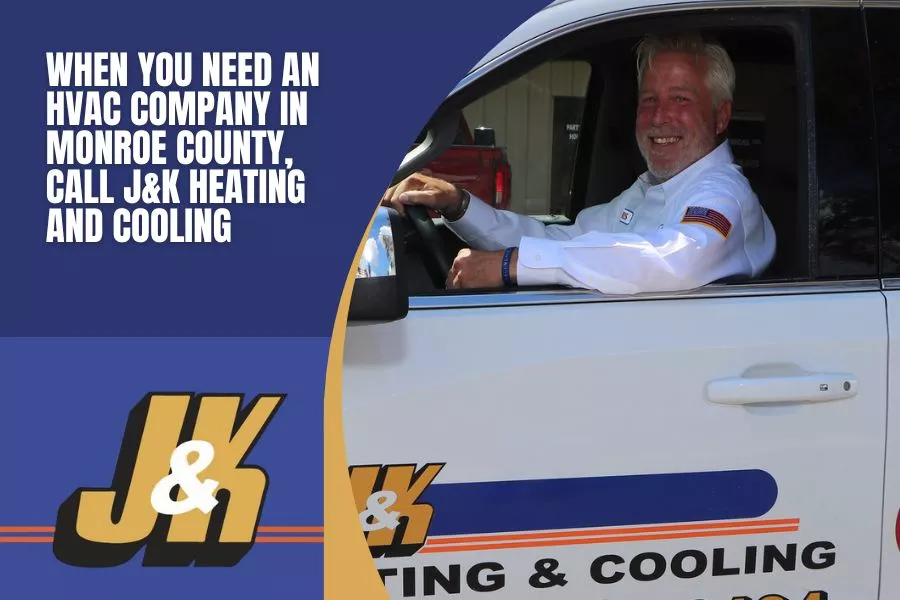 Unparalleled Expertise and Experience
Our team consists of thoroughly trained and certified professionals with extensive experience in the HVAC industry. This allows us to diagnose problems accurately and offer practical solutions catering to your needs. We understand that each home has unique heating and cooling demands, and we have the expertise to optimize your system for maximum efficiency.
Commitment to Customer Satisfaction
We don't just offer services; we create relationships built on trust and satisfaction. Our dedication to customer satisfaction ensures that we go above and beyond to meet your expectations. We communicate clearly throughout each service process, ensuring you're well-informed and satisfied with our services.
24/7 Availability
We understand the discomfort and inconvenience caused by an unexpected breakdown of your heating or cooling system. That's why we've made our services available 24/7. No matter the time of day or night, J&K Heating and Cooling is just a phone call away for all your HVAC emergencies.
Competitive Pricing
As a customer-centric company, we believe in providing excellent services at affordable rates. Our pricing is transparent and competitive, and we always offer a detailed quote before starting work. There are no hidden fees or surprises, just fair pricing for top-quality HVAC services.
These are just a few reasons that make us the top choice for an HVAC company in Monroe County. We'd love to show you firsthand the J&K Heating and Cooling difference. Give us a call today!
Our Services Offered

Installation
At J&K Heating and Cooling, we provide efficient installation services for all central heating and cooling systems brands. Our professionals will guide you through the process, helping you choose the best system for your home and ensuring it's installed correctly for optimal performance.
Repair
We offer comprehensive repair services for all types of heating and cooling systems. Whether your system has a minor glitch or a major breakdown, our experienced technicians can diagnose and fix the issue promptly, restoring your home's comfort.
Maintenance
Regular maintenance is crucial to keep your HVAC system running optimally. We offer routine maintenance checks and tune-ups to extend your system's lifespan, improve efficiency, and prevent costly repairs.
Emergency Services
We understand that HVAC emergencies can happen at any time. That's why we're available 24/7 to provide fast, reliable emergency services when you need them most. We work quickly to resolve the issue and restore your comfort.
For more information about our services or to schedule an appointment, please get in touch with us at J&K Heating and Cooling. We're always here to help with all your heating and cooling needs.
What Our Customers Say
At J&K Heating and Cooling, our customers are at the heart of everything we do. We take pride in providing top-quality services and building lasting relationships with our clients. Here's what some of them have to say about their experience with us:
"I called J&K Heating and Cooling for an emergency repair, and they were at my house within 30 minutes. They fixed the issue quickly and were very professional. Thank you!" – Sarah L.
"I've been using J&K Heating and Cooling for all my HVAC needs for years, and I couldn't be happier with their services. Their team is knowledgeable, friendly, and always provides great solutions at fair prices." – John M.
"J&K Heating and Cooling installed a new heating system in our home, and we couldn't be happier. They were thorough with the installation process and even showed us how to use the new system. Highly recommend!" – Lisa T.
Be sure to check out some of our recent reviews here.
Conclusion
When you need an HVAC company in Monroe County, look no further than J&K Heating and Cooling. Our team of experts is committed to providing top-quality, reliable, and affordable heating and cooling solutions for your home. Contact us today to learn more about our services or to schedule an appointment.
We look forward to serving you! So why wait? Call J&K Heating and Cooling now for all your HVAC needs in Monroe County, and experience the difference for yourself!