If you have a high-efficiency furnace, you're set for winter. High-efficiency gas furnaces have Annual Fuel Utilization Efficiency or AFUE ratings of 90% or higher, with a maximum of 98.5%. The AFUE measurement gauges how much heat your furnace gets from the fuel it uses. Furnaces with a higher AFUE rating will work faster, better, and provide more fuel-efficient warmth for your home. If your current furnace is making noises, needs repair, or is just plain old, it's probably a good idea to have it inspected at the very least. It may be that you need a furnace replacement in Monroe County Michigan. J&K Heating & Cooling to the rescue! We specialize in inspecting, repairing, and replacing furnaces and heat pumps.
Don't postpone the inevitable
Some homeowners ignore warning signs that their furnace is on the blink, such as water around the area, knocking noises, and poor heat distribution throughout your house. While most of us in MI aren't looking forward to winter storms and frigid temperatures, that doesn't mean we shouldn't prepare for it. After all, being prepared can make all the difference when it comes to heating your home.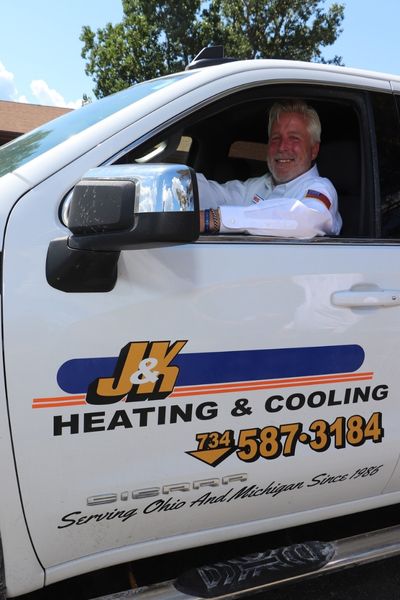 Q. Do you offer furnace servicing and cleaning?
A. Yes. J&K will completely inspect your furnace to determine if it needs any maintenance or cleaning. Perhaps a small tune-up and a new air filter are all that is needed—if so, we'll proceed and let you know. If you have a furnace that is malfunctioning or not working efficiently, we'll present options to you such as installing a new high-efficiency furnace.
Q. Does J&K service heat pumps?
A. Absolutely! We'll fully inspect your home's heat pump inside and out and determine if it's operating at full capacity. A few warning signs that your heat pump might need replacing include:
It's constantly running
It won't cool down
It won't turn on
It's making odd noises and/or emitting a foul odor
It's not providing any or enough heat
Q. I've been reading about the importance of indoor air quality recently. Does indoor air quality really matter?
A. It does! Fresh, clean air impacts your well-being and health. In the winter especially, you and your family members are probably spending more time indoors, so that means you require more fresh, breathable air. Indoor air that is full of pollutants, dust, and other foreign bodies can threaten your health and lead to respiratory illnesses and other chronic health conditions. J&K Heating & Cooling uses state-of-the-art equipment to test your indoor air quality. Once tested, we'll let you know if it passes industry standards for clean air.
We use an Air Quality Index (AQI) to measure air quality. Generally, readings of 50 or below are considered good, and numbers of 300 or higher mean hazardous air quality exists. If your air has poor quality, we recommend changing your air filters and improving ventilation. Also, we'll check your furnace to see if it's emitting any noxious fumes or particles – if so, you might need it replaced.
Preventive maintenance is just as important as regular maintenance
With inflation rising and prices of everything from fuel and groceries climbing, you might think it's wise to just do the bare minimum when it comes to taking care of your home's maintenance. The thing is, if you wait too long in some cases, it will be too late, and you'll have to spend more money on a total replacement. By scheduling regular inspections, changing your air filters, and having your furnace and heat pump maintained and cleaned, you'll increase your chances of saving money and enjoying a more comfortable winter. We all know how important it is to keep gas in our car, keep it washed and clean, check the air in its tires, and change the oil regularly, because if we don't, we might end up stranded.
Your home's HVAC system is no different. It requires year-round TLC, even in the nicer weather. You don't want to get caught in below-zero temperatures with a non-functioning furnace—then you'll be in total "reaction mode," at the mercy of whatever heating contractor who's available and answering their phone.
Be prepared with J&K
J&K specializes in property HVAC maintenance and inspections, so you won't be caught off guard in the middle of winter. We recommend that you call us at (734) 587-3184 to set up a free inspection and estimate. We never use high pressure sales tactics, either—we always tell it like it is, and won't charge you for our professional opinion. We're fully licensed and insured, so you won't need to worry about liability or insurance. We deal with the best HVAC equipment manufacturers in the business such as Carrier, Trane, Goodman, Rheem, and Amana, so you can rest assured your new furnace or AC system will be top of the line. Plus, our prices are reasonable, and we offer fast credit approvals and affordable payment plans and financing. Our experts will work with you so your home will be equipped and ready for the cold months ahead. Whether you need a new furnace replacement in Monroe MI, a heat pump, or an indoor air quality inspection, we've got you covered.
Call the best heating contractor today
We're proud to be the best HVAC contractor in your neighborhood, and have longstanding relationships with your neighbors, family members, and friends, as well as city inspectors. We guarantee that the proper permits will be pulled, and everything will be installed according to city code. You won't need to worry about a furnace installed incorrectly or paying a fine because of a city code violation. You'll always be in good hands with J&K Heating & Cooling. To learn more about our customers, services, and products, visit https://jkheat.com/ today. We look forward to becoming your go-to HVAC provider and will treat you like family. When you visit our website, be sure to read our positive customer reviews and like us on our social media pages. Above all, stay warm this winter with J&K!