Making sure your furnace is in excellent condition should be a top priority before winter hits. If you haven't used your furnace in a long time, it may need servicing, including cleaning and a new filter. If it makes any noises or is showing signs of deterioration, you may need a new furnace. J&K Heating & Cooling are the experts at furnace inspections, and our first look is completely free!
Our expertise is in repairing, installing, and replacing furnaces and heat pumps in your neighborhood. We recommend you get a high-efficiency furnace if you don't already have one, with an Annual Fuel Utilization Efficiency (AFUE) rating of 90% or higher. Furnaces with higher AFUE ratings work hard, faster, and more efficiently, saving you time and money in the long run.
Q. Do you handle furnace replacement in Monroe County MI?
A. Yes! J&K has access to the best furnace brands in North America, such as Carrier, Trane, Rheem, and Goodman. We have significant buying power, therefore we can transfer our savings to you so your new furnace will be affordable and economical.
Q. Do I need a new heat pump?
A. Possibly. If your current heat pump doesn't cool down efficiently, is making loud noises, and is constantly running, it may be time to replace it. Our HVAC technicians will thoroughly check your heat pump to ensure it's totally operational and energy-efficient.
Q. Can you check my air quality when you come out?
A. Of course! We want to make sure the air you breath is free of dust, allergens, and other pollutants so you can breathe in healthy air. We have specialized equipment designed to check your indoor air quality.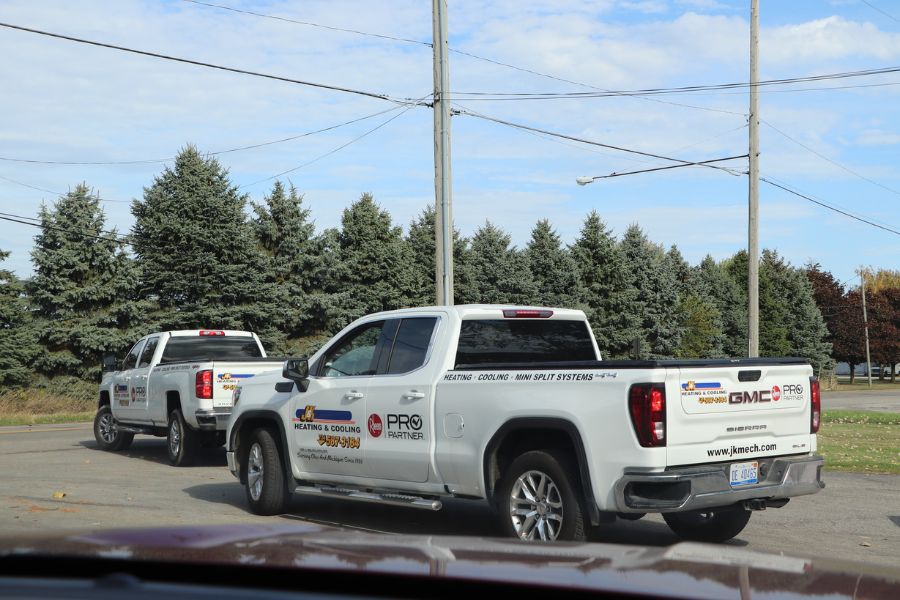 We take care of all the details
When you call J&K Heating & Cooling, you can relax and stop worrying, because we'll take care of everything including:
Furnace inspection and evaluation
Air filter replacement
Furnace repair and replacement
Water heater assessments, repairs, and installation
Heat pump inspections and replacements
Permit pulling and old equipment removal
Easy credit approvals and financing options
We'll help you every step of the way so your home will be 100% prepared and ready for the winter season. We're getting lots of calls and bookings right now, so we recommend you call us ASAP at 734-587-3184 to set up your initial appointment and estimate. We service both residential and commercial properties, so whether you own a single-family home or a local business, J&K can take care of all your HVAC needs.
Don't get caught in the cold
Our experts have more than 20 years of collective experience in the HVAC industry. Our company is well-respected and highly recommended by the Better Business Bureau and Angi. Our prices are fair and reasonable, and our customer service is second to none. Our HVAC advisors are always friendly and knowledgeable, ready to help you with any issue or problem regarding your HVAC system. If you have a heating emergency, our team offers 24/7 support, on weekends and after hours, just give us a call.
We're always very responsive and quick, so you won't have to wait a long time as you might with other big box HVAC companies. Our family-owned HVAC business is ready and waiting to serve you and your family if you need furnace repair in Monroe County Michigan, or in surrounding areas.
Weather experts are predicting a harsh winter in Michigan this year, so it's a good idea to be fully ready and prepared. Visit our website and read our positive reviews and testimonials. Most of our reviews are 5-stars!