There are many advantages to installing a new AC unit in Monroe County, MI. Upgrading to a new and efficient air conditioning system has numerous benefits, including energy savings, improved indoor comfort, and reduced utility bills.
Residents can save on their monthly energy bills by installing a more efficient AC unit. In addition, an updated system can provide reliable cooling during the hot and humid Michigan summers, making indoor living spaces comfortable and pleasant.
Investing in a new air conditioning system is wise for those seeking to optimize indoor comfort and reduce their bills in Monroe County, MI. If you need a new AC installation in your Monroe County, Michigan home, call us for a free quote on a new AC. 
Get a Free Quote by Calling 734-587-3184
AC Services in the Monroe County, Michigan Area
In the hot and humid Michigan summers, efficient air conditioning is essential. Monroe County residents know they can turn to local AC services to keep their homes and businesses cool and comfortable all season.
With a wide range of services available at J&K Heating and Cooling, from installation and repair to maintenance and replacement, homeowners and business owners can trust that our experienced professionals will meet their AC needs. Locals can enjoy the peace of mind of keeping their indoor spaces cool and refreshing by choosing a reliable AC service provider in the Monroe County area.
Repair Services Offered
J&K Heating & Cooling offers a wide range of air conditioning repair services to address any issues. Our experienced HVAC technicians provide 24/7 emergency repair services for immediate assistance during those unexpected breakdowns.
Some signs of AC unit damage that may need repair include inadequate cooling, unusual sounds or odors, and increased energy bills. In such cases, our team diagnoses the problem and provides a solution depending on the severity and pricing quotes for the air conditioner repairs. For minor issues, our team can repair the AC unit. However, if the damage is beyond repair, we offer replacement services. Contact us today for a repair or replacement quote.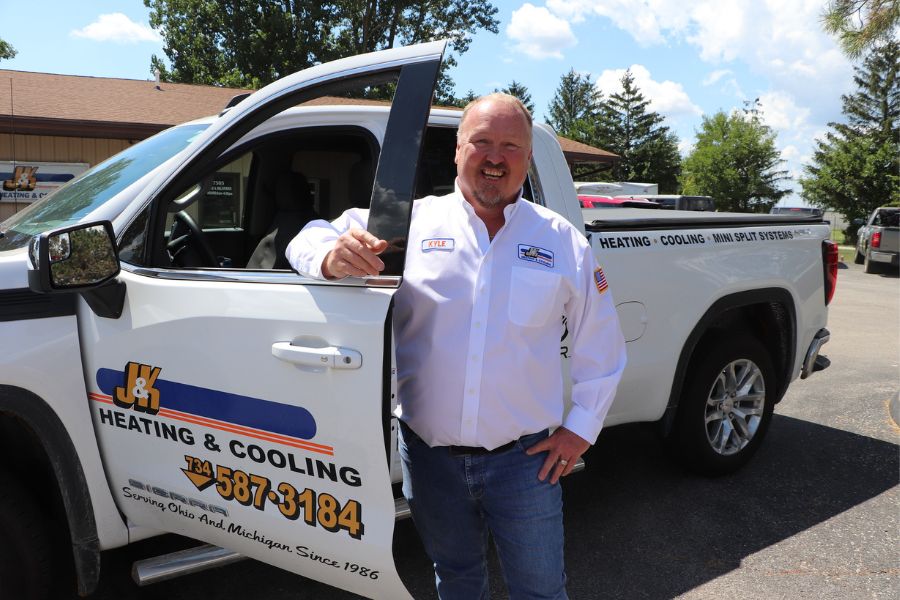 Installation Services Offered
J&K Heating & Cooling provides various cooling system services to customers in Monroe County, MI, and its surrounding areas. The company specializes in installing and maintaining traditional central air conditioning systems, ductless mini-splits, and heat pumps.
Central air conditioning systems draw heat from inside your home and release it outside through a refrigerant cycle. Ductless mini-splits use an outdoor compressor and indoor air-handling units mounted on the wall to cool individual rooms or zones. Heat pumps, however, use refrigerant to transfer heat from one place to another. Heat pumps are used for heating and cooling in many warmer climates but are less popular in colder climates such as Michigan.
J&K Heating & Cooling specializes in providing various benefits to its customers by installing new and improved AC systems. These benefits include improved indoor comfort, energy savings, and increased efficiency. Installing a new system also helps to reduce energy waste, increase the lifespan of your HVAC system, and reduce the number of repairs needed over time.
We ensure that each installation is done efficiently, with minimal disruptions to the customer's daily routine. In addition, we provide regular maintenance and repairs to ensure that your system continues to work effectively for many years to come.
Maintenance and Tune-Ups Available
We offer comprehensive maintenance and tune-up services for air conditioning units. Our services can help increase your AC unit's lifespan, save energy costs, and protect the unit warranty.
Our maintenance services include routine checkups and cleaning of the AC unit's coils, filters, and other critical components. They also inspect the unit for wear and tear, potential breakdowns, and other issues that may result in costly repairs. Regularly maintaining your air conditioning unit can avoid unexpected breakdowns and reduce the risk of total system failure.
We can also maintain your existing AC system to make sure it is ready for the summer ahead.
Energy Savings Advice and Solutions
When considering AC installation in Monroe County, MI, it's essential to consider various energy-saving solutions to reduce energy bills and environmental impact. Upgrading to energy-efficient AC units is a great start, but other options can yield even more significant savings.
One solution is upgrading to a dual-fuel system, which uses a heat pump with a natural gas furnace for efficient heating and cooling. This system can reduce energy consumption and ultimately lower utility bills.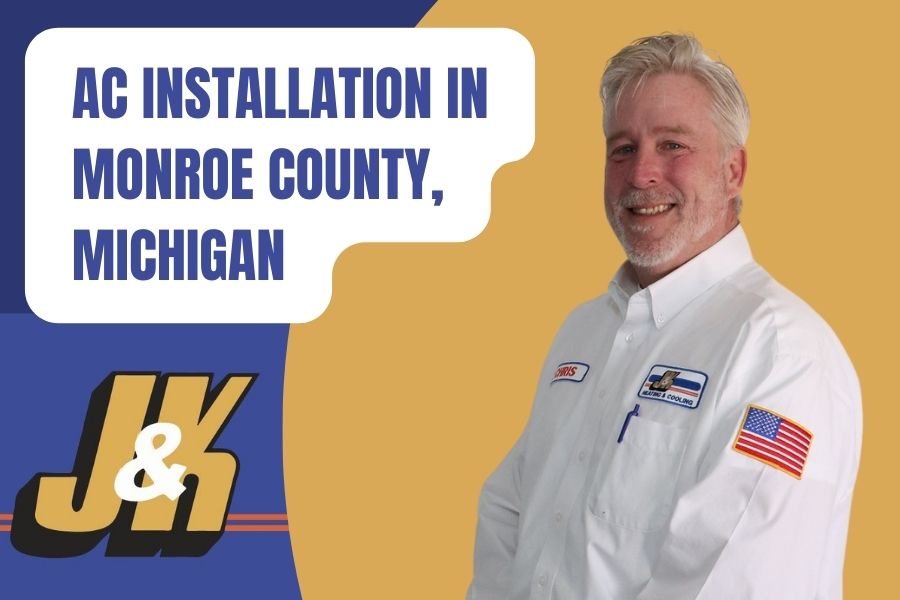 The Pros of Working with Local Companies
Working with a local company such as J&K Heating and Cooling has many benefits that can make a big difference in your overall experience. Choosing a local HVAC contractor can offer some unique advantages you won't find with larger national companies regarding tasks like AC installation, maintenance, and repair. Some benefits of working with local companies like J&K Heating and Cooling in Monroe County, Michigan, for your HVAC needs include personalized service, faster response times, and a more significant investment in their local community.
Customer Service and Satisfaction Guaranteed
At J&K Heating and Cooling, our team takes the time to understand each customer's unique needs, providing personalized solutions to help them achieve perfect indoor comfort for their homes. With our customer service and satisfaction guarantee, you can trust that we'll always do what it takes to leave you happy and comfortable in your home or business. We pride ourselves on our exceptional service and our loyal customers' satisfaction. Our comprehensive services include AC installation, repair, maintenance, heating installation, repair, and maintenance, furnace repair, heat pumps, and more. Trust us for all your heating and air conditioning needs in Monroe County, Michigan; confident that we stand behind our work and commitment to always leaving our customers satisfied. 
Knowledgeable Staff Who Go the Extra Mile
Our highly trained technicians are dedicated to providing reliable and quality HVAC services to our Monroe County, MI customers. Our knowledgeable staff has the expertise to ensure your air conditioning and heating systems work efficiently and effectively.
Customer satisfaction is critical to our success, so we go the extra mile to ensure you are happy with our services. Our staff is courteous, friendly, and professional in all their interactions. They take pride in their work and always leave job sites clean and tidy.
Financing Your New AC
When considering a new AC installation in the Monroe County and Wayne County areas, finding the funds to cover the cost can be daunting. At our HVAC company, we understand this and offer flexible financing options to help make the investment more manageable for our customers.
Our financing plans offer competitive interest rates and can be tailored to meet your specific needs and budget. We work with you to find the best financing plan that fits your unique circumstances, and our team of experts will guide you through the process.
Everyone should be able to experience the benefits of a new AC system, even if they cannot afford to cover the cost upfront. That's why we offer flexible financing options to ensure that our customers can enjoy the comfort of a temperature-controlled home all year round without breaking the bank.
With our financing options, you can enjoy the many benefits of a new AC system with peace of mind, knowing that you are not compromising your financial stability. Contact us today to discuss our financing plans and how we can help you with your AC installation needs in Monroe County.
Get a Free Quote by Calling 734-587-3184
Frequently Asked Questions